_______________________________
Food Bank
The Westminster Food Bank assists those within our community who need non-perishable food products. We assist, in a non-judgmental manner, clients are permitted at our Food Bank once per month and for tracking purposes, all we ask is their name. On average per year we assist over 80 individuals or families and average over 27 visits per month. Our numbers are slowly increasing as more are seeking assistance.
_______________________________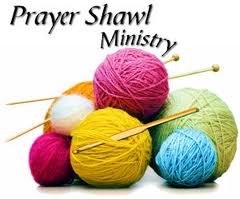 The prayer shawl ministry began in 2004 and within the first year we made 98 shawls. Since that time, over 800 shawls have been made. The shawls are given out to anyone in need of comfort and our prayers. They are also presented to all those receiving the Sacrament of Baptism.
_______________________________
Christmas Hampers
Every year our Christmas Hamper Program grows out of the needs of our community. In 2013, 75 families (260 individuals) received Food Hampers and Christmas gifts, lovingly and joyfully donated, packed and delivered by our congregation. How blessed we are to be able to offer this program and to help and serve others.
_______________________________
DivorceCare
DivorceCare, a special weekly seminar and support group for people who are separated or divorced, is a non-denominational outreach program sponsored by Westminster United Church.
This group meets on Wednesday evenings from 6:30 – 9:30, and includes videos featuring teachings presented by recognized experts on divorce and recovery topics. It takes a long time and a lot of work to heal the pain that comes with the breakup of a marriage. It is often by interacting with others who understand what you are feeling and are able to offer you support and encouragement that you will begin to learn how to deal with the pain of the past and look forward to rebuilding your life. It is hard to know how to help someone who is experiencing a separation or divorce, so if you know someone going through a divorce, make sure he or she knows about DivorceCare. It might just be the best thing you could do to help.
If you or someone you know would benefit from DivorceCare, or wish more information, please contact Carolle Kennedy-Harding (facilitator) by email at kennedy.c@sympatico.ca
_______________________________
Stroke Recovery Group
The Stroke Recovery Group, which started in September 2001, continues to meet every Tuesday from 1:00PM to 3:00PM. Its mandate is one of support, and to that end, it provides programs and information to the participants. Although the membership fluctuates, we have noted an increase in attendance. We use regular exercises, which involve the body, mind and spirit and have been excited to see some improvements whether big or small in each other's capabilities.
_______________________________
Blood Donor Clinics
At Westminster, Canadian Blood Services hold Blood Donor Clinics the first Tuesday of every second month throughout the year. A person between the ages of 17 and 71 in good health can become a valuable donor. You can book your appointment by calling 1-888-236-6283.
Clinic months are January, March, June, September and December.
_______________________________
Living Alone Luncheon
The Living Alone Luncheon is an outreach program that provides a delicious and nutritious lunch for those in the community that live alone. Following the lunch there is a time to socialize and play cards or games.
The luncheon is at 12:00 noon on the first Wednesday of each month from September to June. The cost is $6.00. In the month of December a full Christmas dinner is provided for a cost of $10.00. To get on the list to be called each month for this great lunch and time of connecting with others, call the Westminster United Church office, 905-723-6442, and give your name and number.
_______________________________
St.Vincent Pallotti's Kitchen
St.Vincent Pallotti's Kitchen serves a low-cost, hot nutritious meal in a dignified manner to an average of 150 people in need daily, seven days a week. Westminster's team of over 20 volunteers help serve the meals and clean up the eating, cooking and preparation areas after the patrons leave.
Our team is on duty the first Wednesday of every month from 3:00 -7:00 pm. Volunteers are always welcome.